'Post-PC Era' Predicted By Steve Jobs Taking Hold as Samsung Tops Apple in Connected Device Market
The reality of the "post-PC era" predicted by Steve Jobs at the launch of the iPad 2 in 2011 can clearly be seen in a single graphic created by market intelligence company IDC in a report on what the firm refers to as the Smart Connected Device Market.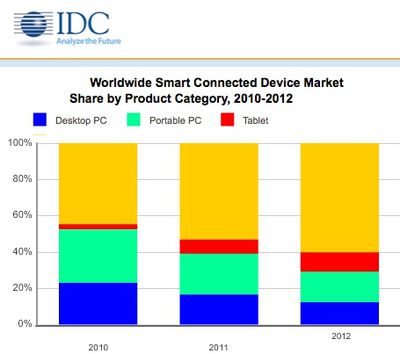 (Legend omits smartphones shown in yellow)
The chart shows the market share decline of both desktop PCs (from 23% in 2010 to just 12% in 2012) and laptops (from 29% to 17%), while tablets grew from 3% to 11% and smartphones from 45% to 60%. Overall, PCs have seen their share of the total smart connected device market fall from roughly 50% to just 30% in only two years.
The figures do not, of course, necessarily indicate device preference, as some may choose a cheaper device for financial reasons, especially in developing markets.
Across the four markets, Apple increased its market share from 16.3% in 2011 to 18.2% in 2012, but dropped from first to second place as it was outpaced by Samsung, whose market share grew from 12.3% to 20.8%.