Spotify's Free Streaming Music Service May Be Coming to iPhone and iPad
Streaming music service Spotify is reportedly in negotiations to make its free subscription tier available on smartphones and tablets, according to a report from The Verge.
Spotify, the popular music subscription service, is due to meet in the coming weeks with its major counterparts in the record industry to renew their licensing agreements. The Verge has learned that managers at Spotify are expected to ask for substantial price breaks from the music labels as well as the rights to extend its free pricing tier to mobile devices.
Currently, Spotify Free is only available on computers, with a $9.99 Premium subscription required to access the service on an iPhone or iPad.
Spotify's argument will likely be that it needs this agreement in order to achieve profitability. Despite 5 million paying subscribers and a further 15 million free ones generating ad revenues, Spotify is believed to be operating at break-even.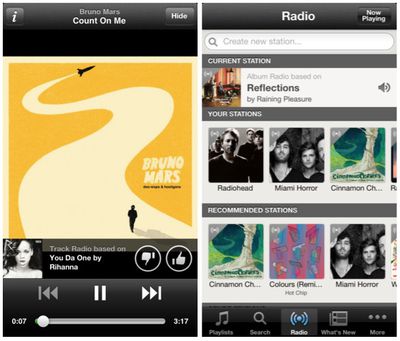 Streaming music services like Spotify and Pandora have had an uneasy relationship with music labels and artists, with the latter complaining about the extremely low level of payments made for the right to stream music. Several major artists, including Coldplay and Adele, refuse to allow their music to be streamed by Spotify for this reason.
Apple is rumored to be planning to launch its own streaming music service to complement iTunes, but industry sources claim that the company has so far made little headway in agreeing terms with record labels.