Spotify Makes U.S. Debut With Paid Plans and Invite-Only Free Service
Streaming music firm Spotify today announced the immediate launch of its beta phase offerings in the United States, debuting as an invitation-only free service paired with two different paid tiers: Unlimited at $4.99/month and Premium at $9.99/month.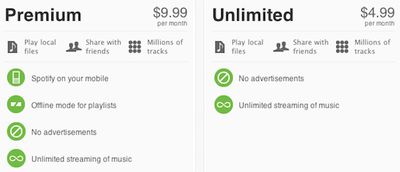 The Spotify app for iPhone [App Store] is also now live in the U.S. App Store, and a subscription to the Premium service is required for mobile device access.
During our invite-only beta phase, we'll be offering three great services - from absolutely free to paid subscriptions. The services we're launching today are:

- Spotify Free - the unsurpassed free music service. With an invite, enjoy on-demand, buffer-free access to over 15 million songs on your computer and great social features. Manage your own music files through Spotify, and sync with your cellphone or iPod. Features occasional advertising.

- Spotify Unlimited - all the special features of our free service, but with uninterrupted, ad-free access to Spotify on your computer. All for only $4.99 a month.

- Spotify Premium - the top-of-the-range Spotify experience. Premium gives you access to all the music, all the time. Listen online or offline, on your computer, your cellphone and a whole heap of other devices. Enjoy enhanced sound quality and access to exclusive content, competitions and special offers. Premium costs just $9.99 a month. (That's the equivalent of a couple of fancy coffees.)
Spotify's free service is debuting in the U.S. with exclusive ad partners Coca-Cola/Sprite, Chevrolet, Motorola, Reebok and Sonos, who are said to be developing specific and innovative ad campaigns for the platform.
Spotify has seen a fair amount of success in Europe, but the service's much-anticipated U.S. launch has been delayed several times as the company sought to acquire approvals from the major record labels. Those pieces began falling into place over the past few weeks, enabling Spotify to finally bring its offerings to the United States.