Chinese Source Claims iPhone 5S and 5-Inch iPhone 6 to Launch in 2013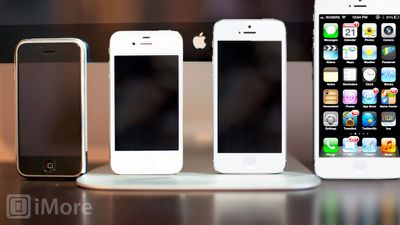 3.5" iPhone, 3.5" iPhone 4, 4" iPhone 5, and (mockup) 5" iPhone by
iMore
Brightwire
translates a report from the Chinese media which claims that Apple will be launching both an iPhone 5S and a 5" iPhone 6 this year:
- A source told Chinese mobile phone information site Laoyaoba.com that he has seen the iPhone 5S and iPhone 6 at Apple's suppliers. Both models may be released in 2013, according to the website's microblog on Thursday evening.
- The source noted that the iPhone 5S resembles the iPhone 5, and the five-inch iPhone 6 is lighter and thinner.
This rumor adds to a chorus of reports that Apple is seriously considering a larger form-factor iPhone in the near future. While early reports had suggested that such a model wouldn't see the light of day in 2013, later reports continue to point to a 4.8"-5.0" device coming soon from Apple.
All these rumors have generated a significant amount of speculation on how such a larger model might make sense in Apple's iPhone lineup, especially when comparing it to Samsung's current offerings.
Due to Apple's use of Chinese manufacturers and the need to prototype their designs, it's possible that all of these sightings could be true, yet Apple may still not launch such a device in 2013. If Apple does begin ramping up production for 2013, we expect we'll see parts of this larger device to also begin to leak out of China.