Refurbished 13-Inch Retina MacBook Pro Models Appear in Apple's Online Store
Apple today added the new 13-inch Retina MacBook Pro to the refurbished section of its online store, giving prospective customers the opportunity to save 15% compared to brand-new machine. Currently available models include:
- 2.5 GHz Core i5 with 128 GB storage: $1439, compared to $1699 new
- 2.5 GHz Core i5 with 256 GB storage: $1699, compared to $1999 new
- 2.9 GHz Core i7 with 512 GB storage: $2289, compared to $2689 new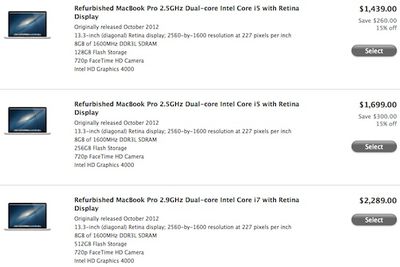 All three models are listed as shipping in 1-3 business days.
As with all of Apple's refurbished products, the 13-inch Retina MacBook Pro units have been thoroughly tested and reconditioned and carry a one-year warranty equal to that offered on brand-new machines.
The addition of the 13-inch Retina MacBook Pro to Apple's refurbished store comes roughly two weeks after the appearance of 15-inch models. But with the 13-inch models having just been introduced in October, some four months after the launch of the 15-inch models, the smaller Retina MacBook Pro has made the transition to the refurbished store much more quickly than its larger sibling.
(Thanks, Alan!)