Apple to Update MacBook Pro and MacBook Air in June 2013 with New Processors, All Retina?
DigiTimes reports that Apple has signaled Taiwan-based suppliers that both the MacBook Pro and MacBook Air series will see revisions in June 2013. As noted by our buyers guide, this would put the updates in line within the expected timeframes.
DigiTimes' sources also reveal that the new MacBook Airs won't have any major external design changes, but will feature a "new processor platform":
The sources pointed out that the MacBook Air for 2013 will feature a new processor platform, but its industrial design will not see any major changes.
The paper also reports that Ultrabook manufacturers are concerned that Apple "is likely to reduce the prices for its existing MacBook Airs before the launch of the new models." Such a move, however, would be extremely unusual for Apple. Apple rarely changes the prices of existing models before they are revised. So, we're skeptical about that particular concern. With the iPad 2, Apple has retained an older product and lowered its price to make room for a new product, but that move would also be unusual for Apple's notebook line.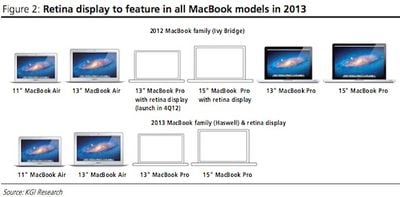 Apple's MacBook lineup plans for late 2012 and 2013 (Source: Ming-Chi Kuo/KGI Securities)
Analyst Ming-Chi Kuo had
previously outlined
his expectations for Apple's 2013 plans back in June. The predictions in the top-portion of the graph above have already come true. Kuo expects that the MacBook Pro will consolidate back into a single hardware line next year. The new MacBook line will also use Intel's new
Haswell chips
which are expected between March and June 2013.
Haswell will incorporate CPU performance boosts as well as double the performance of the integrated GPU. This added GPU performance would be helpful if Apple does standardize on Retina Displays across the entire MacBook line in 2013.