Annual 'Lucky Bags' Coming to Japanese Apple Stores on January 2
During the new year in Japan, retailers often offer a Fukubukuro, or "mystery bag," which is a grab bag that is filled with a random assortment of products sold at a steep discount.
Apple has participated in this tradition for several years, and will once again be offering its "Lucky Bag" in seven different Japanese Apple stores on January 2.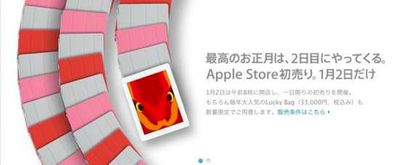 Lucky Bags, which Apple sells for 33,000 yen or $390, traditionally contain items like iPods, headphones, and t-shirts. A few fortunate folks, however, have received big ticket items in previous years, like MacBook Airs or iPads, which have made Lucky Bags ultra popular in Japan.
Apple's grab bags are sold as is, and returns are not accepted unless a product is defective. Still, the bags have been quick sellers in previous years.
According to Tech in Asia, people begin to line up the night before in order to get their hands on a bag, as the sale is similar to Black Friday.
Unfortunately, you'll have to get in line very early if want one of these Lucky Bags. People typically begin lining up at the Apple store on the night before, so if you show up in the morning, and still manage to secure a bag — well, consider yourself lucky. I tried a couple of years ago, but walked away disappointed.
Like Apple's 12 Days of Christmas, this promotion is regionally limited to Japanese customers, though other countries, like China, may see the same traditional Apple Store sales during the new year.