Apple's 'Red Friday' Sales Go Live in Several Asian Countries
Earlier this week, we noted that Apple was planning to hold a "Red Friday" sale in a number of its Asian markets in celebration of the Lunar New Year. The sale has now gone live in those countries, and a quick examination of the Hong Kong promotion reveals similar discounts to those seen on Black Friday in much of the world back in November.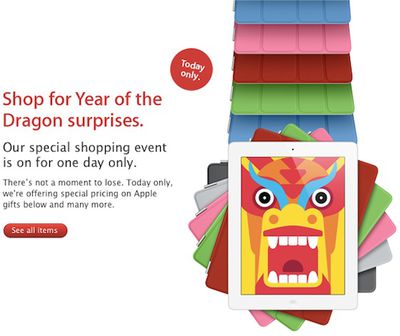 In Hong Kong, Apple is offering discounts of roughly 8% on Wi-Fi iPad models across the board, while 3G-capable models are seeing slightly smaller discounts of 6-7%. The iPod touch is seeing approximately 10% discounts on all models, while the iPod nano is seeing a flat HK$ 80 discount that equates to an 8% discount on the 8 GB model and a 6.7% discount on the 16 GB model.
On the Mac side, Apple is offering a flat HK$ 770 discount on all MacBook Air, MacBook Pro, and iMac models. That discount translates to a 10% discount on the low-end MacBook Air, decreasing to 4% on the high-end MacBook Pro.
Apple's Red Friday sale is a one-day offer valid in China, Hong Kong, Malaysia, Singapore, South Korea, Taiwan, and Thailand.