Japanese Apple Fans Line Up for Annual 'Lucky Bag' Discounts
Tech in Asia reports on the Japanese tradition of "lucky bags" in which retailers celebrate the new year by offering customers grab bags filled with unknown items at a substantial discount from their retail prices. In exchange for the substantial discounts, customers must simply accept whatever products are in the bags.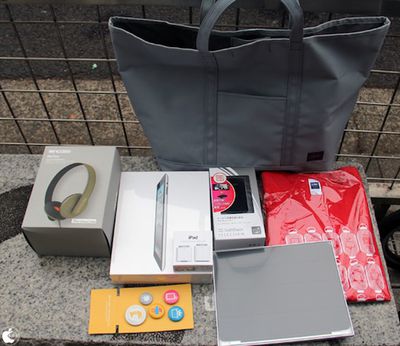 Apple lucky bag with iPad 2, Smart Cover, Camera Connection Kit, headphones, and more
Apple offers some of the most highly sought-after lucky bags, with customers paying hundreds of dollars for bags hoping to receive their favorite big-ticket items. This year's lucky bags from Apple were sold for 33,000 yen, or the equivalent of about $430.
I always considered myself a pretty big Apple fan, but this event seems to bring out the most hard-core fanboys. Back in 2010 I tried to queue for a lucky bag, arriving at the store at 5am only to find that overnight campers had filled all the spots. This year the bag cost 33000 yen (about $430), and most customers are hoping that there will be a big ticket item inside like an iPad 2 or a Macbook Air.
Japanese blog Mac Otakara posts a gallery of photos showing the contents of several lucky bags, with the biggest prize being an 11-inch MacBook Air bundled with a sleeve for the computer, a Magic Mouse, and a pair of headphones. Other lucky bags shown in the gallery offered either a 16 GB Wi-Fi iPad 2 or an 8 GB iPod touch as the main item.