Roundup of Features in Google Maps for iOS: Better Design than Android Version, iPad Version Coming
The much-anticipated Google Maps for iOS is finally here. The app offers iOS 6 users who are unhappy with Apple's in-house Maps app an opportunity to switch back to Google's map platform. The new app includes turn-by-turn navigation, public transit directions, Google local search and more.
There are a number of features and tidbits that come with Google Maps for iOS as well. Here's a selection.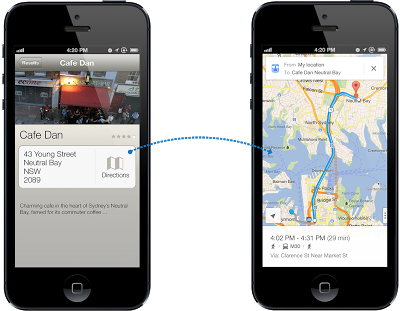 - Jesse Hollington notes on Twitter that Google Maps is now a transit routing app option that is linked from Apple's Maps app.
- Google has created the Google Maps for iOS SDK, which allows developers to feature Google Maps in their applications rather than Apple Maps. Developers can do this in two ways. The first uses a URL scheme so developers can have their apps launch Google Maps to complete a search, show a map or Street View imagery, or view walking, driving and public transportation navigation easily. There are also API keys that allow developers to feature information like traffic navigation and general maps navigation.
- Google's blog post on the app notes that Google Maps for iOS supports iOS 5.1 and higher, iPhone 3GS and iPhone 4. Apple's turn-by-turn voice navigation does not support iOS 5 and those two iPhone models.


- A horizontal two-finger swipe allows you to access a menu that shows traffic, public transit, satellite view and Google Earth (which sends you to the Google Earth app).
- The app is available for 40 countries in 29 different languages, according to Google's blog post.
- KamenLee notes you can shake your iPhone (in frustration) which will trigger a Feedback form to Google.
Notes from David Pogue's Review:
- Google's point-of-interest database allows you, for example, to read a restaurant review on Zagat, read the menu, book reservations and see interior photos at 100 restaurants.
- Pogue also notes there's a Compass Mode that allows you, at certain locations, to move your phone around and allow you to see the interior of a business on your screen.
- Google has added some Google Earth features to the iOS app, including the entire photographic model of the Earth and its oceans
- Pogue mentions that Google admits that the iOS app is better than the Android version in terms of design. The Verge says that Google told them that they took everything they learned about design and used it for this app.
- iPad version is coming
iOS version is available as a free download from the App Store. [iTunes Link]