Google Maps for iOS Now Live in App Store
In line with a report from just a few hours ago, Google's new standalone Maps app for iOS [App Store] has just gone live in the App Store. The app offers iOS 6 users unhappy with the experience on Apple's new in-house Maps app the ability to switch back to Google's free offering.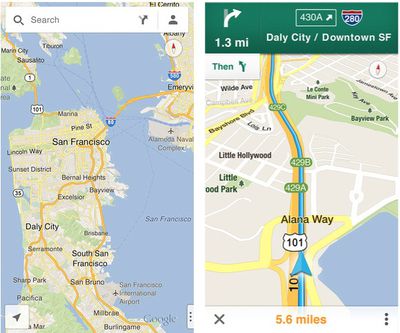 The new Google Maps also offers a number of enhancements beyond what was offered when it powered the built-in Maps app on iOS 5 and earlier, most notably turn-by-turn directions. The absence of that feature from the built-in Maps app had been a major sticking point for the two companies, with its absence putting iOS at a disadvantage relative to Android and Google unwilling to add the feature to Maps for iOS unless Apple made concessions such as greater Google branding within the app and integration with Google Latitude.
Navigate your world with Google Maps, now available for iPhone. Get comprehensive, accurate and easy-to-use maps with built-in Google local search, voice guided turn-by-turn navigation, public transit directions, Street View and more. Use Google Maps to discover great places to eat, drink, shop and play, with ratings and reviews from people you trust. Sign in to save your favorite places and quickly access all your past searches and directions from your computer, right on your phone.
A number of reports had indicated that Google was working toward submission of its standalone Maps app, but some Google employees were reportedly pessimistic about its chances for approval. [Google Maps iTunes Link]
Update: Some users are experiencing difficulties downloading Google Maps, and it may take some time for availability to propagate throughout Apple's servers.