Intel's 'Haswell' Desktop Processors Detailed for Spring 2013 Launch
VR-Zone shares (via Engadget) what is claimed to be a leaked list of Intel's first wave of "Haswell" desktop processors. The 14 new chips are expected to debut in the spring of 2013 and will build new architecture on top of the 22-nanometer process used in the current Ivy Bridge chips.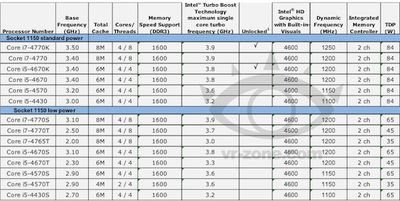 Haswell will bring a number of enhancements to Intel's chip lineup, including faster performance and significant integrated graphics improvements delivered by the new Intel HD 4600 graphics package.
The Haswell desktop chips are likely to only make their way into Apple's iMac family, as the Mac mini uses mobile chips while the Mac Pro takes advantage of Xeon-branded server chips. Still, progress on Haswell sets the stage for further improvements to Apple's just-redesigned flagship desktop Mac, and mobile chips that will power most of the rest of Apple's Mac lineup should follow relatively soon after.