Apple's Split with Google Over iOS Maps Driven by Turn-by-Turn Navigation Dispute
Reports about the high-profile split between Apple and Google that saw Apple replace its Google-powered Maps app for iOS with its own solution have continued to trickle out, with AllThingsD now reporting that the lack of turn-by-turn directions on Google's Maps app for iOS was the key motivator for Apple.
[M]ultiple sources familiar with Apple's thinking say the company felt it had no choice but to replace Google maps with its own because of a disagreement over a key feature: Voice-guided turn-by-turn driving directions.

Spoken turn-by-turn navigation has been a free service offered through Google's Android mobile OS for a few years now. But it was never part of the deal that brought Google's maps to iOS. And Apple very much wanted it to be. Requiring iPhone users to look directly at handsets for directions and manually move through each step while Android users enjoyed native voice-guided instructions put Apple at a clear disadvantage in the mobile space. And having chosen Google as its original mapping partner, the iPhone-maker was now in a position where an arch rival was calling the shots on functionality important to the iOS maps feature set.
Apple reportedly pushed hard for voice navigation in Google's maps on iOS, but Google was unwilling to hand over the functionality without concessions from Apple. As detailed by other sources, Google was seeking greater control over the mapping experience on the iPhone, such as Google branding and Google Latitude integration, concessions Apple was unwilling to make.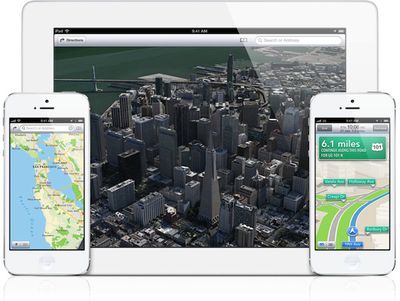 Combined with the deterioration of the overall Apple-Google relationship and Apple's concerns that Google was collecting too much information from iOS users, Apple ramped up its mapping efforts in order to bring its own turn-by-turn directions to the device, ultimately deciding that it could afford to do away entirely with Google's maps.