Apple Now Quoting 'January' Shipping Estimates for 27-Inch iMac
Shipping estimates for Apple's new 27-inch iMac models have been updated today to "January", marking the first time availability of the machines has been pushed back into 2013. Orders had previously been estimated at 3-4 weeks for shipping.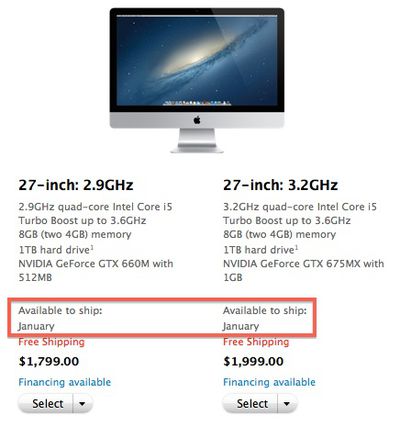 The new "January" estimate may or may not represent a lengthening of lead times given that the previous 3-4 week window was already pushing into January, but at the very least it seems that Apple is introducing some uncertainty into future availability by simply stating a one-month window for new orders rather than measuring estimates in weeks.
Supplies of the new iMac have been tight since the machine's launch one week ago, and were already expected to be constrained into 2013. The bottleneck for Apple is said to be the new production process on the machine's display, which is laminated directly to the cover glass. The process is more troublesome for larger screens, making supplies of the 27-inch iMac more scarce than those for its 21.5-inch sibling.