First Claimed Images of iPhone 5S Rear Shell Surface
Parts firm ETrade Supply has posted several photos of what it believes may be the rear shell for next-generation iPhone, which we are referring to as the iPhone 5S in accordance with Apple's recent pattern of naming the devices.
The part is extremely similar to that from the iPhone 5, in line with Apple's pattern of maintaining a given body style for two generations before making more significant modifications. This iPhone 5S part is, however, distinctly different from its iPhone 5 counterpart in several ways, most obviously in the arrangement of the screw holes for attaching the logic board.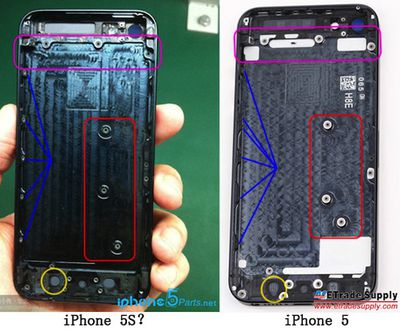 Comparison of iPhone 5S and iPhone 5 rear shells with logic board screw holes boxed in red
Aside from the logic board screw holes, there are other subtle differences between the two parts highlighted in purple, blue, and yellow in the photo comparison.


The exterior of the shell contains the same text as seen on the iPhone 5, with placeholders being used for the various model, IMEI, and regulatory identifiers.
Given that the origin of the photos is unknown, it is certainly possible that this part is an old iPhone 5 prototype design that was discarded in favor of the design that was ultimately used. Alternatively, the part could also be a fake or a knockoff, although at a glance the part seems to show similar levels of quality to that seen on the genuine iPhone 5 part and a knockoff part intended to be used for replacement on iPhone 5 devices would be certain to retain the arrangement of logic board screw holes.
A pair of reports from DigiTimes last month indicated that trial production on the iPhone 5S is already underway with Apple targeting the "middle of 2013" for a launch.