Latest WebKit Builds Address Browser Scrolling Performance on Retina MacBook Pro Models
Soon after the launch of the 15-inch Retina MacBook Pro in June, we pointed to an analysis by AnandTech showing how the need to drive a massive number of pixels taxed the graphics capabilities of the machine to the point where it struggled to hit 20 frames per second while scrolling on resource-intensive web pages such as Facebook news feeds.
AnandTech now follows up with a new report based on a thread in our forums showing that the latest builds of WebKit, the open source browser engine upon which Safari is based, demonstrate dramatically improved frame rates during scrolling.
I grabbed a build (r135516 - it's no longer the latest build but I assume the later builds also contain the fix) and tried it out on the 13-inch rMBP. Scrolling down my Facebook news feed ended up being one of the best showcases for poor scrolling performance on the rMBPs, so that's obviously the first test I ran. As always I used Quartz Debug to measure UI frame rate.
The results show frame rates of around 20 frames per second (fps) under the standard Safari 6.0.2, but jump to nearly 50 fps when using nightly build r135516 of WebKit.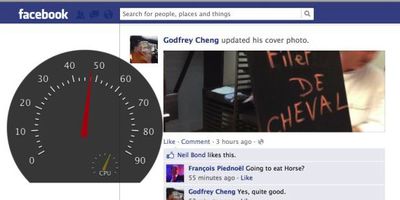 Frame rates approaching 50 fps when scrolling in WebKit nightly build r135515
AnandTech
hasn't been able to determine exactly what code changes were made to enable the significant boost to scrolling performance on Retina MacBook Pro models, and it is unclear exactly when those changes will be incorporated into Safari itself, but it certainly seems that a solution is on its way.