Retina MacBook Pro Pushes the Limits of its Graphics Capabilities
Just after the launch of the Retina MacBook Pro earlier this month, AnandTech provided a first glimpse of the machine's display performance, noting the various resolution options available to users and examining how its color and contrast compares to other notebooks.
After having more time to analyze the new machine, AnandTech last week published its full review of the Retina MacBook Pro, bringing its thorough and technically-detailed perspective to the report. While the whole review is definitely worth a read, the section on graphics performance bears special attention.
With the integrated Intel HD 4000 and discrete NVIDIA GeForce GT 650M graphics units responsible for driving 2880x1800 pixels in standard Retina mode and as many as 3840x2400 pixels before downscaling to display 1920x1200 at its highest non-Retina resolution, Apple is clearly pushing the limits of the machine's graphics capabilities.
At the default setting, either Intel's HD 4000 or NVIDIA's GeForce GT 650M already have to render and display far more pixels than either GPU was ever intended to. At the 1680 and 1920 settings however the GPUs are doing more work than even their high-end desktop counterparts are used to.
AnandTech goes on to assess this graphics performance, noting that the Retina MacBook Pro at times struggles to maintain a "consistently smooth experience".
At 2880 x 1800 most interactions are smooth but things like zooming windows or scrolling on certain web pages is clearly sub-30fps. At the higher scaled resolutions, since the GPU has to render as much as 9.2MP, even UI performance can be sluggish. There's simply nothing that can be done at this point - Apple is pushing the limits of the hardware we have available today, far beyond what any other OEM has done.
Focusing on browser scrolling behavior, which also involves substantial CPU load, AnandTech notes that the resource-intensive Facebook news feed pages can display at over 50 frames per second on a 2011 MacBook Pro, but that the new Retina MacBook Pro struggles to hit 20 frames per second as it pushes so many more pixels.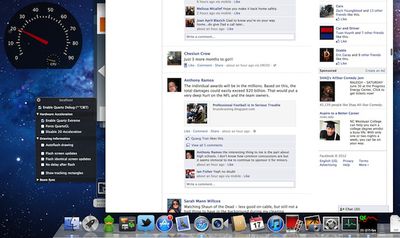 Retina MacBook Pro at 21 frames per second while scrolling (See meter at top left)
The report notes that OS X Mountain Lion will help address some of these issues by leveraging Core Animation, but in
AnandTech
's testing it was still only able to achieve 20-30 frames per second under Mountain Lion. Further improvements in performance will have to wait for hardware capabilities to catch up with demands imposed by these new ultra-high resolution displays.