Will.i.am Introduces iPhone Camera Accessory with Slide-Out Keyboard
Following up on last week's report that Black Eyed Peas star Will.i.am would be launching a new camera accessory for the iPhone, The Telegraph reports that he has introduced the "i.am+" accessory.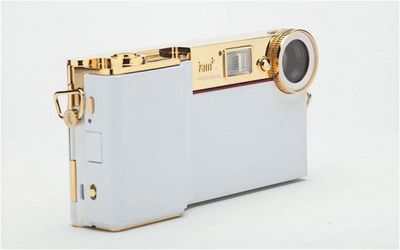 £299 V.4 "Vintage Look" for iPhone 4/4S
The product, which will be available in £199 C.4 "contemporary" and £299 V.4 "vintage" models for the iPhone 4 and 4S, also contains a slide-out keyboard on the V.4 and launches on December 6. The C.4/V.4 versions use the existing iPhone camera and contain interchangeable lenses for standard, fish-eye, and zoom photo capabilities, while the more advanced C.5/V.5 models for the iPhone 5 that will come with a dedicated 14-megapixel sensor and flash won't launch until next year.
A companion iTunes app turns the hardware in to what the celebrity calls "a social photo experience". It will also offer easy access for users to store In their individual i.am account.

As with other apps and accessories, on on-screen controls allow users to change shooting modes, apply real-time filters, control the in-built flash and edit pictures or add caption.

£299 V.4 "Vintage Look" for iPhone 4/4S

£199 C.4 "Modern Look" for iPhone 4/4S
The new devices will also integrate with an online service called
i.am
for photo sharing similar to
Instagram
.
Update 11:24 AM: Engadget has posted an image gallery and video showing the new camera accessories, including several photos of non-functional prototypes of the iPhone 5 products with dedicated 14-megapixel sensors set for launch early next year.