OS X 10.8.3 Beta Contains Drivers for AMD Radeon 7000-Series Graphics Cards
As noted by netkas.org and in our forums, the initial beta release of OS X 10.8.3 seeded to developers yesterday contains drivers supporting AMD's latest 7000-series graphics cards, including the high-end "Tahiti" options. The development has naturally sparked speculation that Apple is starting to build in support for graphics cards to be used in the all-new Mac Pro coming in 2013.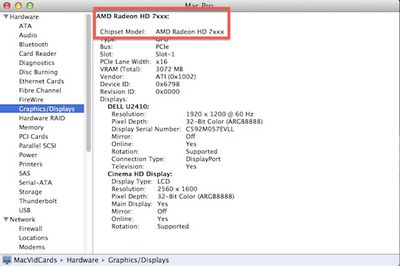 Testing has revealed that the low-end "Cape Verde" Radeon HD 7770 graphics cards will work under the first OS X 10.8.3 beta and that support is also likely for the high-end Tahiti cards, but forum user MacVidCards cautions that compatibility for certain cards has come and gone in the past, so users should wait until the public release of OS X 10.8.3 before getting their hopes up too much, and even then compatibility could disappear in the future.
This is not the first time that evidence of Tahiti support has shown up in OS X either, as other drivers surfaced nearly a year ago in OS X 10.7.3. Consequently, it is difficult to reach any conclusions regarding Apple's product plans based on the appearance of new drivers in OS X 10.8.3, but it certainly seems to be positive progress toward support of new hardware.