iPad Mini Display Judged 'Very Capable', But Falls Short of iPad and Android Competitors
Much of the discussion about the iPad mini has centered around the device's display, which reportedly represents 43% of the overall cost of manufacturing. While the display is said to take advantage of new "GF2" technology to allow for a thinner, high-quality display, it does not carry the Retina-level resolution users have become accustomed to in the iPhone and iPad.
DisplayMate's Ray Soneira has now put the iPad mini's display through its paces, publishing a new iPad mini Display Technology Shoot-Out comparing its performance to that of the full-size iPad, as well as Amazon's Kindle Fire HD and Google's Nexus 7. Overall, Soneira found that the iPad mini's display is "very capable", but surprisingly falls short of competing devices in a number of areas.
The iPad mini is certainly a very capable small Tablet, but it does not follow in Apple's tradition of providing the best display, or at least a great display – it has just a very capable display. What's more, the displays on existing mini Tablets from Amazon and Google outperform the iPad mini in most of our Lab tests as documented below in the Shoot-Out Comparison Table. Some of this results from constraints within the iPad product line, and some to realistic constraints on display technology and costs, but much of it is due to a number of poor choices and compromises.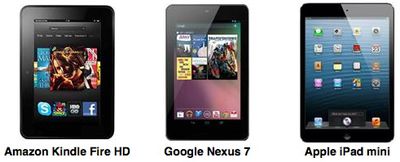 Among the issues Soneira found with the iPad mini's display:
- Lower resolution: This is obviously not a surprise given the cost and power requirements of putting in a full Retina-level display at 326 pixels per inch (ppi), but the 163 ppi screen of the iPad mini even falls short compared to the 216 ppi displays of the Kindle Fire HD and the Nexus 7.
- Reflectance: The iPad mini's screen reflectance measures at a "surprisingly high" 9.0%, meaning that the iPad mini's display reflects 53% more ambient light than the Nexus 7's display and 41% more than the Kindle Fire HD's screen. Both of the competitors also offer better contrast under high ambient light.
- Color gamut: The iPad mini's color gamut registers at 62%, on par with the iPad 2 and the iPhone 4, but below the 100% figure for latest iPhone and full-size iPad models and below the Kindle Fire HD and Nexus 7 at 86%.
While the iPad mini's display falls short of its larger sibling and more direct competitors on pure specs, Soneira does note that the display holds up fairly well in real-world usage due to excellent calibration and color management processing.
A detailed comparison among the iPad mini, Kindle Fire HD, and Nexus 7 can be found in the table accompanying the report.