iPad Mini Component Costs Estimated to Begin at $188
AllThingsD reports on an iPad mini teardown from research firm IHS iSuppli estimating the component costs for Apple's new iPad mini at $188 for the 16 GB model.
The base model, a Wi-Fi-only 16 gigabyte iPad mini, which sells for a starting retail price of $329, costs about $188 to build. Adding additional memory — the options are 32GB and 64GB — adds only incremental cost but a fair amount of profit, amounting to an additional $90 for the 32GB version and $162 per unit on the 64GB model.
The report notes that approximately 43% of the device cost is related to the display, which adopts an expensive new process known as GF2 to reduce the part's thickness, although costs are expected to come down as the production process is refined.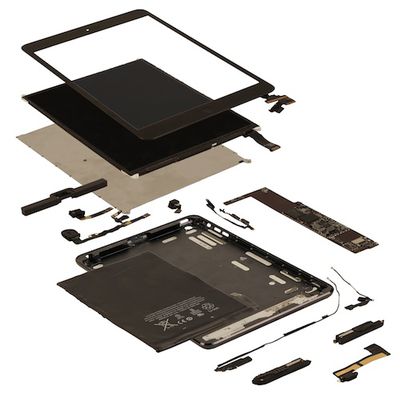 The bill of materials estimate provides support for Apple CEO Tim Cook's claim that the iPad mini has been priced aggressively with a profit margin significantly below the company's average. While the entry-level iPad mini is priced at $329 for a product that costs Apple $199 to build, the iPhone 5 costs Apple just $10 more to build but sells for $649. The iPad mini is, however, more in line with the full-size iPad, which IHS iSuppli estimated to carry a bill of materials of $306 for the entry-level third-generation model at its launch earlier this year.