Apple Sending Out iTunes Match Renewal Notices to U.S. Users
With two weeks to go until the one-year anniversary of the public launch of iTunes Match in the United States, Apple is sending out emails reminding user who have opted for auto-renewal that their credit cards will be charged the next $24.99 annual fee on November 14.
Continue to enjoy your entire music collection in iCloud on your iOS devices, iTunes, and Apple TV. iTunes Match stores not only your songs purchased on the iTunes Store, but all of the other great music you have acquired over the years, including music from CDs.

This is just a reminder that your subscription for iTunes Match will automatically renew on 11/14/12 and you will be charged $24.99 at that time. To view your subscription or change your auto-renewal settings, sign in to iTunes on your computer and go to your Account Information page.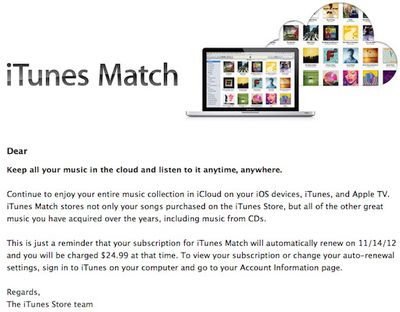 Additional information on subscribing to iTunes Match or turning off auto-renewal is available in an Apple support document.