Apple Sells Out of Remaining Launch Day iPad Mini Pre-Order Stock
While Apple sold out of white iPad mini pre-order stock in just minutes on Friday, supplies of the black models held out quite bit longer for those in the United States where Apple was showing greatest availability.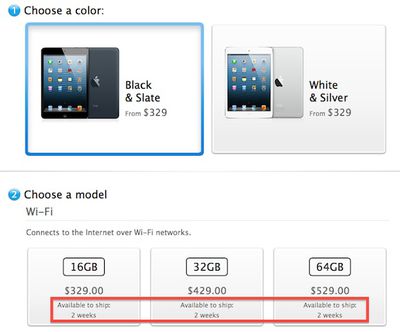 Availability of the black models in the U.S. online store began to slip on Saturday, when shipping dates for the 16 GB Wi-Fi model moved to two weeks. The 32 GB and 64 GB models have now followed suit, and all Wi-Fi iPad mini models are now being quoted two-week shipping estimates. Apple is still quoting its original "Mid November" estimate for cellular-capable models in the U.S., with other countries seeing "Late November" estimates.
The iPad mini will officially launch this Friday, November 2. For those who were not able place pre-orders in time, Apple's retail stores will begin sales at 8:00 AM on Friday.
Apple's fourth-generation iPad is also launching on Friday under a similar schedule that will see cellular-capable models delayed until mid-to-late November. New pre-orders for Wi-Fi iPad models are currently seeing shipping estimates of one week in many countries, with some seeing two-week estimates.