Apple Already Sold Out of Initial White iPad Mini Pre-Order Stock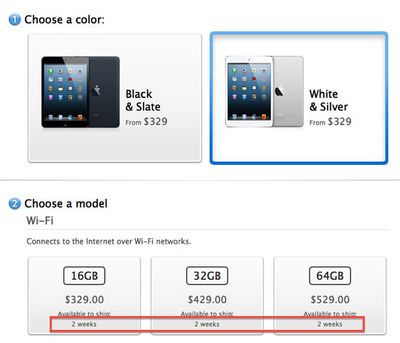 Apple started pre-orders for the iPad mini and 4th Generation iPad early this morning at 3AM Eastern / 12AM Pacific. As noted in our forums, the initial stock of White iPad minis sold out quickly in the U.S. Within the first 17 minutes, ship dates for the white iPad mini slipped to 2 weeks from the original "Delivers 11/2". The black Wi-Fi iPad mini remains available for delivery by November 2nd.
Of course, its hard to tell how much of the stock out is related to high demand vs. low supply. We suspect stocks may have been low as others have noted that countries outside the U.S. listed "2 week" delivery times from the first moment the white iPad minis went on sale.
As typical, Apple will also offer the iPad mini in retail stores on launch day. Apple keeps a sizable stock of devices to be available on the official launch day of products. The Wi-Fi iPad mini will be available in retail stores starting on November 2nd. Meanwhile, the cellular version is promised by mid-November.