iPad Resales Jump 700-1000% Alongside Apple's Media Event
MarketWatch reports that sites specializing in gadget resales saw tremendous spikes in iPad interest yesterday, with resale submissions rising 700-1000% as Apple was announcing the fourth-generation iPad and the new iPad mini.
Some 140,000 devices were put up for sale on Gazelle.com Tuesday – a 700% spike from the day before, says Anthony Scarsella, chief gadget officer at the site. Half of that increase occurred in the hours just before the announcement, he says – and the most common model put up for sale was the "new iPad" released just six months ago. Another resale site, NextWorth.com , reported that trade-ins for iPads rose over 1,000% on Tuesday.
Despite the fact that the new models are not launching until November 2, with cellular-capable models coming several weeks later, it seems that users already moving to unload their current devices in order to purchase the new latest models. According to the report, nearly 70% of resale submissions are for the third-generation iPad, with the 32 GB Wi-Fi model currently registering as the most popular resale at Gazelle.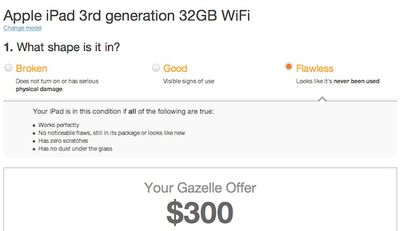 For third-generation Wi-Fi iPads in "flawless" condition, Gazelle is currently offering $250/$300/$350 for the various capacities, giving consumers a substantial amount of money toward the purchase of one of the new models. Gazelle's offers are locked in for 30 days, allowing consumers submitting their resales now time to get at least a Wi-Fi model of either the fourth-generation iPad or new iPad mini before having to send back their current device. The flood of new offers is, however, likely to drive resale offer prices down as the sites seek to balance their stocks.
Note: Gazelle is presently an advertiser on MacRumors.