Apple Releases Major Final Cut Pro X Update with Dual Viewers, Multichannel Audio Tools, RED Camera Support and More
Today, Apple released a major update to Final Cut Pro X that was promised back in April. The initial launch of Final Cut Pro X was met with significant criticism due to a lack of many features found in earlier versions of the software. Apple responded to the concerns with promises of updates.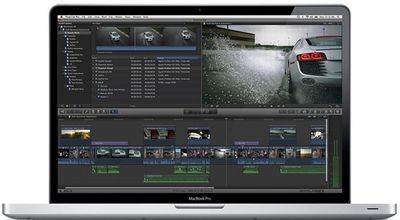 In
April
, Apple even revealed many features that could be expected in Final Cut Pro X in 2012. These included Multichannel Audio Editing Tools, Dual Viewers, MXF Plug-in Support and RED camera support.
That version update was released today and includes a number of long awaited features:
• Expand multichannel audio files directly in the timeline for precise editing of individual audio channels
• Unified import window for transferring media from both file-based cameras and folders of files
• Redesigned Share interface for exporting projects and range selections to one or more destinations
• RED camera support with native REDCODE RAW editing and optional background transcode to Apple ProRes
• MXF plug-in support that allows you to work natively with MXF files from import through delivery using third-party plug-ins
• Dual viewers, each with a video scope display, let you compare shots to match action and color
• Option to add chapter markers in the timeline for export to video files, DVD, and Blu-ray disc
• Range selection now preserves start and end points in the Event Browser and allows you to create multiple range selections on a single clip
• Paste attributes window lets you choose specific effects to copy between clips
• Flexible Clip Connections allow you to keep Connected Clips in place when slipping, sliding or moving clips in the Primary Storyline
• Add a freeze frame to your timeline with a single keystroke
• Drop shadow effect with intuitive onscreen controls to adjust position, edge falloff, angle, and more
• New controls for combining audio from multiple angles within a Multicam Clip
• Compound Clip creation in the timeline now saves the clip in the Event Browser for re-use in other projects
• XML 1.2 featuring metadata import and export for richer integration with third-party apps
Final Cut Pro X is available in the Mac App Store for $299.99. The 10.0.6 update is free for current customers. [Mac App Store]