Consistent with Apple's quest to make its new computers as thin as possible at the expense of expandability, the new 21.5" iMac contains no user-accessible RAM slots. Instead, it can be configured with 8GB or 16GB of RAM direct from the factory. This was first noticed by Cult of Mac.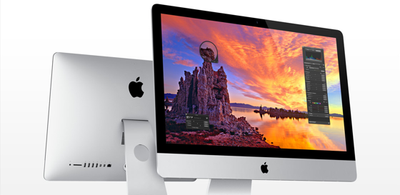 The 27" model, on the other hand, can be equipped with up to 32GB of RAM, and has four user-accessible RAM slots via an "easy-to-access memory panel" on the rear of the machine.
From one of Apple's iMac marketing pages:
The 21.5-inch iMac comes with 8GB of memory and can be configured online with 16GB. On the 27-inch iMac, 8GB of memory comes standard, and you can upgrade to 16GB or 32GB. Configure and buy your iMac at the Apple Online Store and it will arrive with the memory already installed. Or add more memory to the 27-inch model yourself by popping open the easy-to-access memory panel on the back.
The 21.5" model ships in November, while the 27" model will begin shipping in December.