Foxconn Executive Speaks to Difficulty of iPhone 5 Assembly
Following word that increased quality control standards for the iPhone 5 assembly process have slowed Foxconn's production and increased stress on workers, The Wall Street Journal shares comments from an unnamed Foxconn executive explaining the difficulty in assembling the device.
"The iPhone 5 is the most difficult device that Foxconn has ever assembled. To make it light and thin, the design is very complicated," said an official at the company who declined to be named. "It takes time to learn how to make this new device. Practice makes perfect. Our productivity has been improving day by day."
The executive also addressed the scratching issues that have reportedly been the cause of the increased quality control standards, noting that it is "always hard to satisfy both aesthetic needs and practical needs."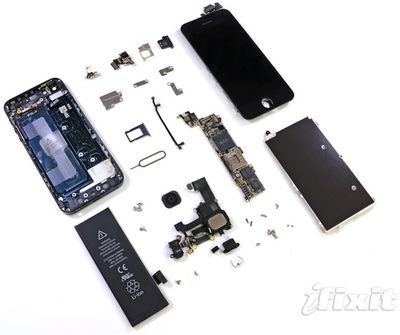 Completed teardown of iPhone 5 (Source: iFixit)
The executive also acknowledged tensions between production line staff and quality control inspectors, but declined to offer additional information on the situation that was initially reported as a
strike by several thousand workers
but later denied by Foxconn.