Apple's Lightning to 30-Pin Adapter Torn Apart, Reveals Several Chips and Copious Glue
Peter from Double Helix Cables has made a guest post on Gizmodo showing his work to tear down Apple's new Lightning to 30-pin Adapter that began shipping earlier this week. Apple has come under a fair amount of criticism for charging $29 for the basic adapter and $39 for one with a short cable, but Peter notes that based on the electronics inside and the durability of the adapter, the company may have good reason for its pricing.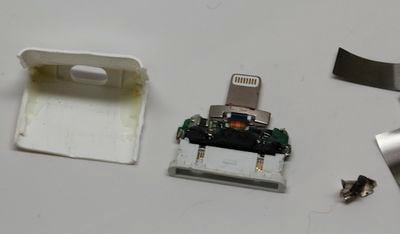 Apple's Lightning connector uses a controller chip to dynamically assign functionalities to the eight pins found in the connector, enabling it to adapt to different situations. The Lightning to 30-pin Adapter is no exception, containing several chips required to allow that flexible functionality to be passed through to devices using the old dock connector design.
The chips look unfamiliar, but with the same metal finish and some have lasered text. They all appear to be custom and trying to figure out what does what is fruitless. I really took this apart for the DIY community to ascertain if the DAC [digital-to-analog converter] in this thing is actually good, but it's quite unclear. It's probably some integrated audio circuitry in a larger processing chip, that's how these things tend to be done now. One of the chips reads Apple on it with a very long serial number. Another reads 8533 23AP CAB.
Peter notes that underneath the plastic shell of the adapter is a significant amount of metal and glue holding the device together and providing strength and durability. The construction makes the adapter extremely difficult to crack open and does not bode well for those seeking to modify the adapter to add functionality.
I really had high hopes that I could get into this thing and attach an audio output cable, but I should have known better. This thing is even more fearsomely reinforced than the Lightning USB cord, by a factor of 10, surely to thwart those that want to hack it, and also so that it cannot break easily. Nobody should balk at paying $29 for this after they see what is inside, though.
Despite the complexity of the adapter evidenced its $29 price tag, integrated electronics, and sturdy construction, the device has also been receiving criticism for incompatibility with a number of accessories. Users have been reporting mixed results in using the adapter with their 30-pin accessories, and users hoping to plug in the adapter with a case on their iPhone 5 may find that the adapter's bulk prevents it from working with all but the thinnest cases or cases with nearly fully open bottom edges. As a result users with cases on their iPhones may prefer to opt for the more expensive cable-equipped adapter that uses a standard-sized Lightning connector assembly rather than embedding the connector directly into the bulky adapter.