While Apple added dedicated Notes and Reminders web apps to iCloud.com last month, the web-based implementation of Reminders left out at least one important feature: shared reminders.
OS X Mountain Lion users have been able to share reminders via the native Reminders app as of OS X 10.8.2, but Windows users and others needing to access iCloud via the service's website have been unable to set up new shared reminders. The feature is also missing from the Reminders app in iOS 6.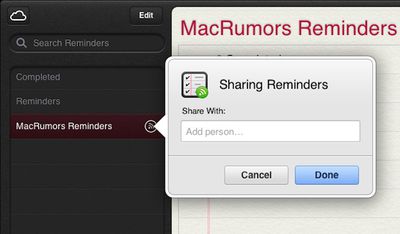 Within the past several days, Apple has apparently rolled out shared reminders for the Reminders web app on iCloud.com, bringing the functionality closer to par with the native Mac app. There appears to be no word yet on whether the functionality will be making its way into the iOS 6 Reminders app, but it does appear that Apple is heeding at least some calls for making the feature available across platforms.
(Thanks, Arthur!)