Google Adds Street View to Web-Based Google Maps for Mobile Devices
As noted by iPhoneinCanada.ca, Google today added its Street View functionality to the web-based version of its Google Maps product available to iOS and other mobile device users. With Apple's transition to its own Maps app in iOS 6, users still wishing to use Google Maps have been able to do so through the maps.google.com web app, but the web version has been missing some features compared to the native iOS app that was previously available on Apple's devices.
Our own tests with Google Street View via the Google Maps web app were very straightforward. Just load up the maps.google.com web app in mobile Safari, tap on a location and a new bottom bar emerges with an icon of a person. Tap that and voila–you have Street View, which opens up in a new tab displaying the URL maps.gstatic.com.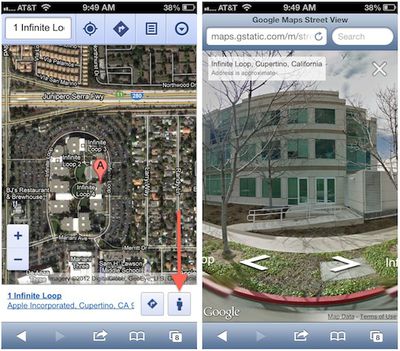 Access to the feature appears to require that users allow the web-based Google Maps app to access their locations.
Google is reportedly working on its own native iOS maps app for submission to the App Store, but that app is not expected to be ready for several more months. In the meantime, Google appears to be beefing up its web-based maps to help bridge the gap while also enhancing functionality for other mobile devices.