Previously Untold Recollections of Steve Jobs: 'Scuffgate' 2004, 'Hide the Porsches', and More
Years before the iPhone 5 scuffing and scratching controversy, Apple CEO Steve Jobs played a role in another scuffing incident at the company's then brand-new Stanford Shopping Center mini retail store. According to Forbes' Connie Guglielmo, who relates the anecdote as part of a series of previously untold stories and recollections of Jobs, he initially refused to step outside the store to greet reporters at the store's 2004 grand opening as he had a "meltdown" over scuffing on the white floor and handprints on other finishes throughout the store.
Jobs was ultimately convinced to step outside, and the curtain was drawn before the small gathering of reporters. When I saw the floor, I immediately turned to Jobs, standing next to me, and asked if he had been involved in every aspect of the design. He said yes. "It was obvious that whoever designed the store had never cleaned a floor in their life," I told him. He narrowed his eyes at me and stepped inside.
According to an Apple executive who later reported back Guglielmo, Jobs brought in the store design team and had them clean the floor the night after the grand opening, presumably as a means of emphasizing the importance of material selection in the design process.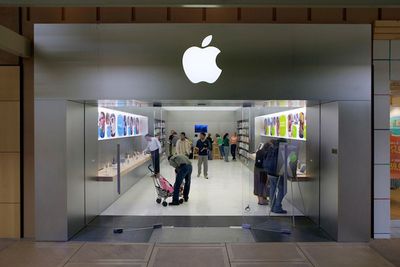 Apple's Stanford mini store
The article shares nearly a dozen such anecdotes from a variety of sources, offering a bit more insight into how Jobs worked and interacted with others. Another story addresses Jobs' efforts to hide his Porsche from the view of billionaire H. Ross Perot, who was contemplating an investment in NeXT.
[NeXT software engineer Randy] Adams, using some of the cash he'd earned from the sale of his company, bought a Porsche 911 at the same time Jobs did. To avoid car-door dings, they parked near each other–taking up three parking spaces between them. One day Jobs rushed over to Adams' cubicle and told him they had to move the cars.

"I said, 'Why?,' and he said, 'Randy, we have to hide the Porsches. Ross Perot is coming by and thinking of investing in the company, and we don't want him to think we have a lot of money.'" They moved the cars around to the back of NeXT's offices in Palo Alto, Calif. and Perot invested $20 million in the company in 1987 and took a seat on the board.
Other anecdotes come from a variety of sources, including Internet browser pioneer Marc Andreessen, former Apple evangelist Guy Kawasaki and Atari founder Nolan Bushnell. The article is being included in the October 22 print edition of Forbes.