Apple Actively Recruiting Ex-Google Maps Employees
TechCrunch reports that Apple is aggressively pursuing former and current Google Maps employees as part of its effort to build out its own Mapping solution.
My source — a contractor who worked on Google Maps as part of a massive undertaking to integrate Street View and newly licensed third-party data to improve European coverage, as well as develop the platform's turn-by-turn navigation — says that when attention turned to indoor mapping, things started to become less interesting and a lot of staff began looking around for other opportunities.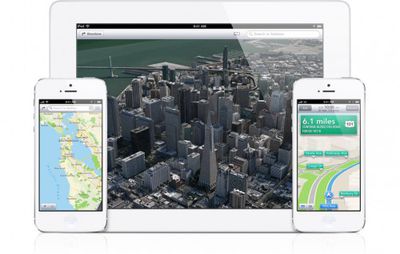 Apple's own Mapping solution launched as part of iOS 6 just last week. The launch was marred by significant criticism of the quality of the data in many parts of the world. Apple has posted a number of job listings for Maps-related jobs over the past few weeks. Given Google's history and resources placed into their own mapping solution, it's no surprise that many qualified candidates may have worked on Google's product as well.
Early rumors had suggested that Google has already submitted their own Maps application to the iOS app store, but that seems to have been debunked by The Loop's Jim Dalrymple. It still seems that Google may be working on their own iOS app this time, but TechCrunch's prediction of a "before Christmas" target may be a more realistic timeframe.