iPhone 5 Component Costs Estimated to Begin at $199
IHS iSuppli has released its estimate of the component costs involved in building the iPhone 5, performing a virtual teardown based on information revealed by Apple and industry knowledge. The estimate, which does not include numerous other costs involved in product development, manufacturing, and sales, such as research and development, software, patent licenses, marketing, and distribution expenditures, pegs the component cost of the entry-level 16 GB iPhone 5 at $199.
The new iPhone 5 carries a bill of materials (BOM) of $199.00 for the low-end model with 16Gbytes of NAND flash memory, according to a preliminary virtual teardown conducted by the IHS iSuppli Teardown Analysis Service. When the $8.00 manufacturing cost is added in, the cost to produce the iPhone 5 rises to $207.00. For the 32Gbyte version of the iPhone 5, the BOM cost increases to $209.00, while 64Gbyte version is estimated at $230.00, as presented in the table below.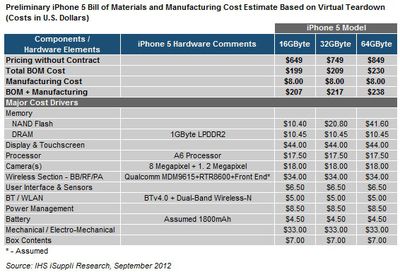 The estimated $199 bill of materials (BOM) for the 16 GB model is slightly higher than the firm's $188 estimate for the iPhone 4S at that device's launch last year, but a halving of flash storage prices over the past year means that Apple's margins improve as capacity increases. While the 32 GB and 64 GB models of the iPhone 4S carried BOMs of $207 and $245 respectively, those estimates move to $209 and $230 for the iPhone 5.
While the price of some components, such as NAND flash, has fallen during the past year, the iPhone 5's overall BOM has increased mainly because its display and wireless subsystems are more expensive compared to the iPhone 4S."
Compared to the iPhone 4S, flash storage pricing declined by roughly $10 on the entry-level iPhone 5, but that decrease was more than offset by a $7 increase in display costs to $44 due to the adoption of in-cell touch sensors and a $10 increase in wireless costs with the move to Qualcomm's latest LTE-compatible chips. At the 64 GB level, a $37 decrease in flash memory compared to the iPhone 4S is able to overcome the other increases to lower Apple's overall estimated costs for the device.