iPhone 4S Component Costs Once Again Begin at About $188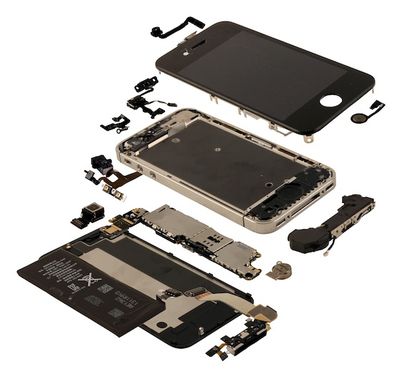 AllThingsD reports on IHS iSuppli's teardown analysis of the iPhone 4S, with an eye toward estimating the cost of components included in the device. Based on iSuppli's analysis, the 16 GB iPhone 4S carries a bill of materials cost of about $188, in line with that of the GSM iPhone 4 at launch.
In the case of the iPhone 4S, [IHS iSuppli analyst Andrew] Rassweiler estimates that the BOM cost ranges from $188 for the 16 gigabyte version of the iPhone 4S to $207 for the 32GB version and $245 for the 64GB version. Apple and its carrier partners sell the phones for $199, $299 and $399 respectively, typically with a two-year contract for wireless service that carriers use to subsidize the cost they pay Apple.
While we've already seen a couple of iPhone 4S teardowns from iFixit and Chipworks, IHS iSuppli highlights a few new items of note.
- A noise cancellation chip from Audience that had been included in the iPhone 4 is not found in the iPhone 4S, suggesting that the noise cancellation functions may have been incorporated directly into the main A5 system-on-a-chip. IHS iSuppli estimates that the A5 chip, which continues to be manufactured by Samsung, costs Apple about $15.
- While iFixit found Toshiba flash memory in its iPhone 4S unit, IHS iSuppli expressed some surprise at finding Hynix memory in its unit. Apple has, however, sourced flash memory for various devices from Hynix for many years, although the company's products have apparently not been seen in recent iPhone models. But with flash memory being a relative commodity in the hardware market, Apple typically sources the chips from a variety of vendors based on pricing and volume requirements.
- IHS iSuppli was unable to determine the manufacturer of the iPhone 4S camera module, as the part contained no identifying information printed on it. Chipworks had determined in its teardown that the camera sensor was made by Sony, but it is unclear if Sony is splitting sensor production loads with Apple's longtime partner OmniVision. Regardless, IHS iSuppli estimates the cost of the camera module at $17.60.


Component costs for Apple's entry-level iPhones have typically come in between $170 and $190, offering the company a hefty margin when the $199 purchase price and extensive carrier subsidies are accounted for. But it is important to note that bill of materials cost estimates account only for the cost of the individual hardware components used in the device. The estimates do not include other costs involved in product development, manufacturing, and sales, such as research and development, software, patent licenses, marketing, and distribution expenditures.