In-Cell Touch Technology Could Help Apple Reduce Next iPhone's Thickness by 15%
Following last week's rumor that Apple is looking to adopt thinner in-cell touch technology for the display of the next-generation iPhone, analyst Ming-Chi Kuo, who recently took on a new position with KGI Securities, has issued a report looking at how that change could help Apple reduce the thickness of the iPhone from the current 9.3 mm of the iPhone 4S to under 8 mm. The move would help Apple to compete against its Android-based challengers, which have continued to see reductions in their thickness over time.
Since Apple's smartphone competitors have generally slimmed down their high-end offerings to 7-8mm, Apple needs to make a leap forward from 4S' 9.3mm thickness. We believe Apple will aim at 8mm or below (at least 1.4mm slimmer) for iPhone 5, in a bid to ensure brisk sales through 2014, while peers will also continue to introduce increasingly slim models next year.

As such, all iPhone 4S components that account for thickness must be slimmer, specifically, touch panel, battery and casing. Moreover, a marginal amount of space is required between the three parts for the sakes of assembly tolerance and thermal expansion of components.
Kuo calculates that shifting to in-cell touch technology in the next iPhone will yield Apple just shy of 0.5 mm in terms of a reduction in thickness. Kuo envisions a similar reduction coming from the battery, which he predicts Apple will be able to broaden somewhat inside the casing, allowing for a roughly 10% reduction in battery thickness.
A final 0.5 mm reduction in thickness could come from the use of a metal back case, which could come in at half the thickness of the glass back used in the current iPhone. Altogether, Apple could shave 1.4 mm from the iPhone's thickness to bring the next-generation model in at just 7.9 mm thick.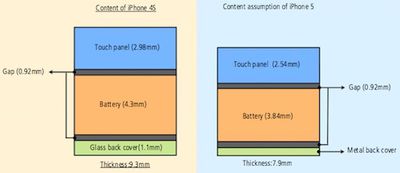 In yet another argument for the adoption of in-cell touch technology for the display in the next-generation iPhone, Kuo notes that display production would be greatly simplified, with fewer steps in the manufacturing process and fewer vendors being involved resulting in an estimated reduction in production time from 12-16 days to just 3-5 days.
While the initial yield on in-cell touch displays is currently lower than for glass-on-glass manufacturing techniques such as those used for the iPhone 4S, that deficiency can be compensated for by re-bonding in-cell panels and cover glass units with the optically clear resin (OCR) used in the bonding process. The optically clear adhesive (OCA) used in the current manufacturing process can not be re-bonded if the initial bonding fails.