T-Mobile USA Focused on 'Selling Against the iPhone' Starting September 21
TmoNews reports (via Engadget) that it has received a pair of photos from T-Mobile USA's internal news system announcing that the carrier will be rolling out new training programs focused on "selling against the iPhone". The new training modules are being deployed on September 21, the rumored launch day for the next-generation iPhone in the United States.
Perhaps it's coincidental that the information for employees to utilize against the iPhone will drop on September 21st, a date being tossed around as a possible release date for the next-generation iPhone. Perhaps it's just coincidence but we can't envision a scenario in which T-Mobile would prepare their employees to sell against a product they are about to receive.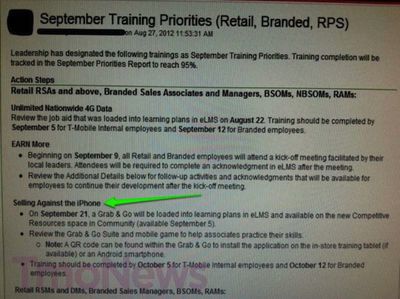 T-Mobile is the only one of the four major U.S. carriers to not officially offer the iPhone, hampered by its use of 3G spectrum bands that are not supported by iPhone models released to date. That has not stopped customers from bringing their GSM iPhones to the carrier for use on its 2G network, and T-Mobile has been working to increase support for the over one million iPhones in use on its network even as it seeks to downplay the impact of its official absence to potential customers.
Following its failed merger with AT&T, T-Mobile USA announced earlier this year that its work on refarming spectrum would make the carrier's 4G HSPA+ network compatible with a broader range of devices, including the iPhone, by the end of 2012. Today's report from TmoNews reveals that T-Mobile is also rolling out new Monthly4G SIM kits that are compatible with the iPhone 4S and 4 later this month, perhaps signaling an increased effort to attract iPhone customers as its iPhone-compatible HSPA+ network reaches critical mass.