Apple Prepares to Open First Swedish Retail Stores
We've been following Apple's efforts to open retail store locations in Sweden for some time, noting last November that the company had filed for a business registration certificate. The company began hiring for its new stores in February, although the locations for those stores were not disclosed at the time.
Over this past weekend, 99mac reported [Google translation] that a new location listing in Swedish search engine and mapping service Hitta.se has revealed Apple's forthcoming store in the Täby Centrum shopping center in Stockholm. According to sources, the store is scheduled to open on September 15.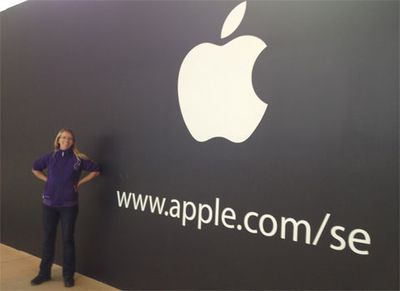 IDG.se followed up [Google translation] with a visit to the shopping center, where it discovered the under-construction store covered by Apple's traditional black construction barrier emblazoned with the Apple logo and the URL for company's Swedish site.
Apple is reportedly working on several other Swedish retail store sites, with a location in Malmö said to be planned for an October 25 opening and a second Stockholm site also said to be under consideration.
Sweden appears set to become the 14th country with an Apple retail store presence, with the company counting China and Hong Kong as separate markets. Unlike Apple's high-profile entry into the Netherlands earlier this year with a flagship store, the first Swedish store appears to be of the more standard mall-based variety, although with a very wide storefront indicating that it should be of substantial size.