Back in June, Swedish retail news site Market.se reported that Apple was making plans to open its first retail stores in Sweden, with Stockholm understandably being the company's first target city.
As noted by Allt om Mac [Google translation], Apple is now moving closer to opening its first Swedish stores with its registration of a new business by the name of "Apple Retail Sweden AB" to oversee the operation.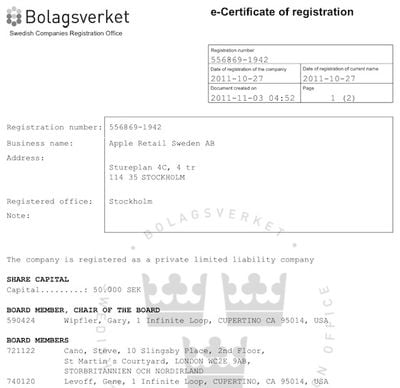 According to the business registration certificate on file with Swedish officials, the new company was registered on October 27th and names Apple treasurer Gary Wipfler as chair of the board. Two other Apple employees are also named as board members: company attorney Gene Levoff and senior director of international retail Steve Cano. Cano had been rumored just today to have succeeded Ron Johnson as Apple's senior vice president of retail, but the company issued a statement indicating that the search for Johnson's replacement is still ongoing.
Apple currently operates retail stores in eleven countries, but is making a significant push with its new international locations. The company has stated that it plans to open 40 new stores during fiscal 2012, with 75% of them being outside of the United States.
In addition to Sweden, Apple has also been working hard on a store in Amsterdam, which would be the company's first location in the Netherlands. That store was originally intended to open earlier this year, with Apple even having posted an entire retail jobs page on its Dutch site, but delays apparently related to disputes over historic preservation of the building have reportedly pushed that opening back to at least early 2012.