Photos of Assembled 'iPhone 5' Front Panel with Home Button, Front Camera and Shielding Installed [Update: NFC?]
Part leaks claimed to be for the next-generation iPhone continue to surface as the all-but-confirmed September 12 media event introduction approaches, with the latest batch of photos showing what appears to be the most completely assembled front panel seen yet. The new photos, which were highlighted by Apple.pro [Google translation], were posted to a Photobucket account that previously posted photos of measurements showing that the third-generation iPad would be thicker than the iPad 2, as well as the first leaked photo of the next-generation iPhone front panel in white.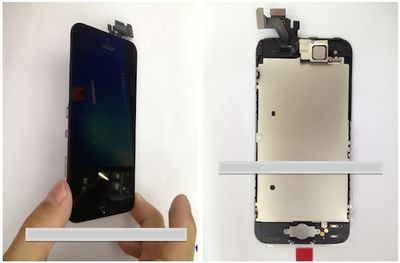 Assembled front panel complete with LCD frame, front camera, and home button
The latest set of photos posted to the account shows a nearly fully assembled front panel with even more parts than seen in
last week's leak
of the front panel with the LCD attached. The new photos show not only the LCD attached to the front panel but also the home button installed and secured by a metal bracket, the shielding frame for the display that was first seen as a
standalone part
earlier this month, and the front-facing camera installed behind additional shielding.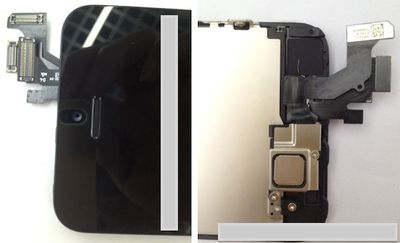 Closeups of top portion showing flex cables for display and front camera
Increasing numbers of parts are leaking in ever more complete states of assembly, offering good looks at the overall appearance and layout of the next-generation iPhone.
While the front of the device will appear very similar to the iPhone 4S/4 with the exception of a taller screen and slight tweaks in the locations of the camera and sensors, it is the rear of the device that seems to be generating the most discussion. The forthcoming iPhone appears to incorporate a unibody design that will incorporate a two-toned rear/side shell featuring a large metal section in the center paired with two strips of glass or plastic at the top and bottom that will allow for transmission of the numerous types of signals necessary for the device's operation.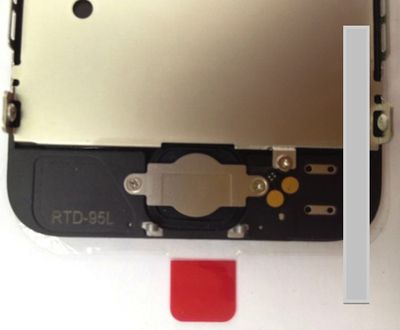 Closeup of home button installed behind metal bracket
Note: Watermarks have been obscured due to political statements contained within them.
Update: Mac Otakara points out that the unknown square-shaped feature visible at the top may be a near field communications (NFC) chip.