Complete 'iPhone 5' Front Panel and 4" Screen Photos
UBreakiFix has received these photos of the full front panel of the next generation iPhone from one of their distributors.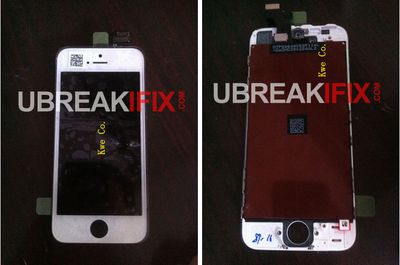 The parts don't appear to be particularly revealing. We've seen similar components before with the exception of a close look at the new iPhone's LCD screen.
The new screen is said to have increased to 4" in diagonal (up from 3.5") while preserving the same pixel density as the current iPhone design. This would provide apps with additional screen space to fill. UBreakiFix also provided a zoomed in photo of the top area with serial numbers and LCD connector.
The new iPhone is expected to be launched on September 12th.