iPad 3 Rear Shell Measures in at 9.5 mm Thick, 0.8 mm Thicker Than iPad 2
While comparison photos of the iPad 2 rear shell and a claimed iPad 3 rear shell have shown slightly increased thickness for the forthcoming model and reports have suggested that the difference is roughly 1 mm, no measurements had surfaced to quantify the exact difference in thickness between the two devices.
Apple.pro now points [Google translation] to a new photo showing both shells being measured with a digital caliper. According to the photo, the iPad 2 rear shell measures in at 8.69 mm thick while the iPad 3 part comes in at 9.50 mm, a difference of 0.81 mm.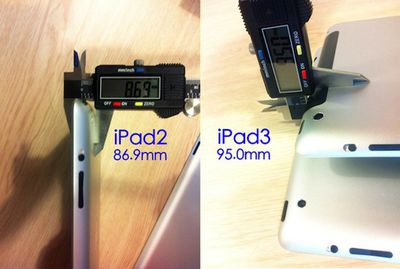 (Note: Text labels added by image poster are off by a factor of ten. Readings on caliper are correct.)
Apple's official
iPad 2 specs
peg the device at 8.8 mm thick, just slightly thicker that the rear shell itself, which wraps around the sides of the device. Given a nearly identical design for the iPad 3, the overall device would measure in at roughly 9.6 mm, or about 9% thicker than the iPad 2 but still well below the 13.4 mm thickness of the original iPad. Sources who have handled the iPad 3 rear shell suggest that the difference from the iPad 2 will be nearly imperceptible to users.