Claimed Front Panel of White Next-Generation iPhone Surfaces
Apple.pro points [Google translation] to a photo posted to a Photobucket account that appears to show a white version of the next-generation "iPhone 5" front panel. This appears to be the first time that a claimed photo of the white version of the device has been seen.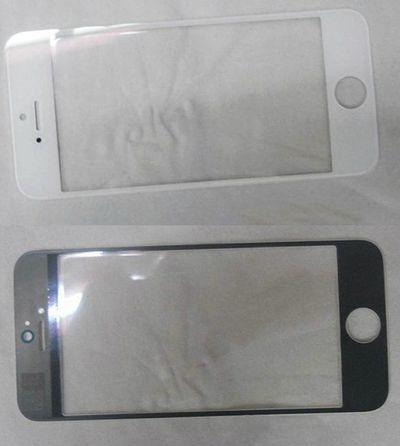 Front (top) and back (bottom) of claimed front panel from white next-generation iPhone
As with previously-leaked
photo
and
video
of the black version, the new photo seems to show the front-facing FaceTime camera centered on the device, located above the earpiece rather than to the left of it as seen on current iPhone models. The small black window to the left of the earpiece on the white panel is likely to be the proximity sensor, which is visible above the earpiece on current white models.
The panel also shows a display with an aspect ratio of close to 16:9, in line with rumors of a taller screen measuring four inches diagonally. Overall, the front panel appears to match up closely to a previously-leaked design drawing showing details of the front panel.
Notably, the Photobucket account hosting the new photo is the same one that previously posted leaked measurement comparisons between the rear shells of the third-generation iPad and the iPad 2, showing roughly how much thicker the new iPad would be over the previous model.