7.85" iPad to be Called 'iPad Mini' and Wi-Fi (Cloud iTunes) Coming to iPod Nano?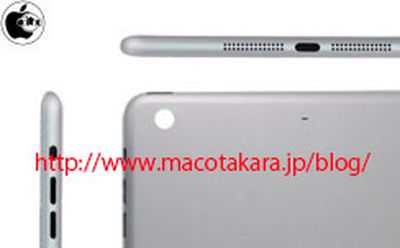 Japanese blog Macotakara claims to have additional details about Apple's upcoming 7.85" iPad and the next generation iPod nano.
First, the site reports that the new smaller iPad device will indeed be called "iPad mini":
According to Asian source, the name of Apple's new product, which are expected to have 7"85' and called as iPad mini, will be named as "iPad mini" officially. This source expects that "iPad" logo will be printed on back of case same as "iPod" is printed on iPod nano and iPod touch, and it means one new product will be added on iPad's product brand genre.
Next, the Japanese blog also believes the next iPod nano may come with Wi-Fi capabilities in order to enable iTunes in the Cloud support:
Next iPod nano may equip Wi-Fi antenna on side of that case, and support iTunes Music Cloud in order Apple to provide a iconic product to promote the largest Music Store in the world.
Wi-Fi access would allow iPod nano users to redownload any past music, movies or TV shows onto their device when connected to a hotspot.
Macotakara again notes the mysterious holes found on the back casing of iPod Touch and offers a guess at NFC capabilities, but has no clear answer. Overall, Macotakara has had a mixed track record with their rumor reports.