Claimed Next-Generation iPod Touch Case Points to Significant Redesign
While part leaks for the next-generation iPhone have been plentiful, similar leaks for an updated iPod touch have been harder to locate, with a front panel showing an opening for a larger 4-inch display having been the only known leak so far.
Back in late July, Mac Otakara reported that the device would adopt the A5 system-on-a-chip found in the iPhone 4S, as well as a buffed aluminum shell. The report also claimed that there is a mystery hole in the lower portion of the rear shell, with a rendering based on the rumors showing the feature located in the lower center of the device.
GizChina now posts photos of what is said to be a case for the next-generation iPod touch, seemingly showing a less-tapered design. The case shows a widened rear camera hole that the report suggests could hint at the addition of an LED flash as seen on the iPhone. The current iPod touch does have a microphone in that location, however, and the opening in this new case may simply be to accommodate the same feature.
The new case also shows the "mystery hole" described in the Mac Otakara report, but it is located in the lower corner of the rear shell rather than in the center.
As you can see from the photos these cases suggest that the next generation iPod touch will have a new design (at least to the rear) and seem to be have a much less pronounced taper to the edges when compared to the current iPod touch 4.

The cases could also give away possible details as to the spec of the 5th generation iPod touch 5. The hole around the camera area to the left for example looks to have been elongated and tapered to fit around a possible LED flash to help with low light photography, and there is also the appearance of a new 'mystery hole' in the lower left hand side of the case.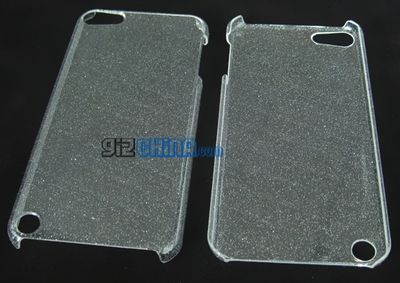 The report speculates that the mystery hole could be for a speaker or microphone of some sort, but there have yet to be any part leaks to provide additional hints at its function.
As with the tapered iPhone cases seen in 2011, case companies are sometimes incorrect in their designs, and thus part leaks such as those seen for the next-generation iPhone are regarded as much more significant. But in the absence of major part leaks for the next iPod touch, cases bearing a new design are currently one of the only pieces of evidence available for fueling speculation and discussion of a potential redesign for the device.