Samsung Investing $4 Billion in Austin, Texas to Boost Smartphone Processor Production
Samsung today announced that it will spend roughly $4 billion to revamp some of its existing facilities in Austin, Texas in order to boost production of its system-on-a-chip platforms that power a number of mobile devices including Apple's iOS products.
The funds will be used to renovate its existing fabrication operations to accommodate full System LSI production.

The remodeled fabrication line will mainly produce state-of-the-art mobile SoCs on 300mm wafers at the 28nm process node.

Starting work this month, the project is scheduled to initiate mass production within the second half of 2013. About 2,500 construction workers and equipment vendors will be at the site to retrofit the facility and set up the equipment.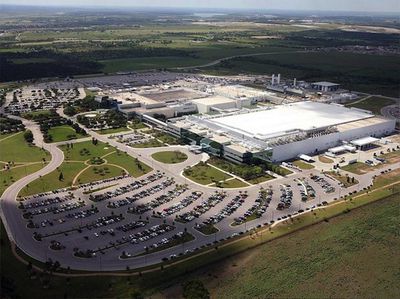 Samsung's Austin chip production facilities (Source: Alberto Martinez/Austin American-Statesman)
As
noted by the Austin American-Statesman
, Samsung will be converting older facilities currently used for memory chip production.
Although Samsung does not say exactly who it is making the new chips for, technology industry analysts say the Austin factory is a key maker of low-power system chips.

The two key customers of the Austin fab, analysts say, are almost certain to be Apple Inc., which depends on Samsung to make essential smartphone chips, and Samsung's own smartphone business.
Austin is already a hub for both Samsung's system-on-a-chip production and Apple, with Samsung having opened a new factory dedicated to production of Apple's A5 chips just last December and Apple currently pursing a major expansion of its existing presence in the city.