Earlier this week, it was revealed that Steve Jobs' home had been burglarized last month, with a thief entering the under-renovation house and taking over $60,000 worth of property including several iMacs and iPads, Tiffany jewelry, and Steve Jobs' wallet with $1 in it.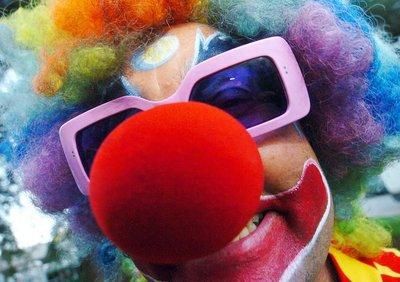 Kenny the Clown (Source: Jeff Vendsel/Marin Independent Journal)
The San Jose Mercury News now reports
that one of those stolen iPads ended up in the hands of "Kenny the Clown", a local clown who performs shows for kids and tourists in the Bay Area. Kenny was given the iPad by his friend Kariem McFarlin, the thief who has admitted to his crime.
Kenny the Clown, who had the late Apple co-founder's tablet all to himself for a few days this month, didn't play any games, surf the net or check for any top-secret corporate documents.

Instead, he loaded iTunes to play the "Pink Panther" theme song and Michael Jackson, using the magical device to entertain Bay Area kids and tourists during his clown routine.

He had no idea the device came from the fabled Jobs residence until after the friend who gave him the gadget was charged with breaking into the CEO's Palo Alto home. By then, the cops had already shown up at his door and taken it away.
Kenny, who says he didn't notice anything special about the iPad and simply thought McFarlin was handing down an old one to him, portrays his friend as a "nice guy who made a horrible, horrible decision".