Apple's Stock Continues Surge With New Record High
After setting a record high close yesterday, Apple's stock today has extended its strong run that has been in place since last month's disappointing earnings numbers, pushing through to set a new all-time intraday high. The stock hit a new high of $644.13 per share just minutes ago, besting the previous all-time high of $644.00 set on April 10.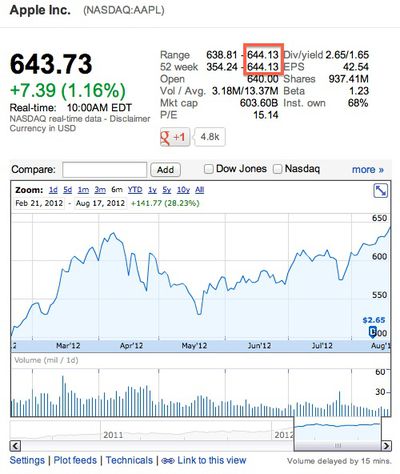 The move has also pushed Apple's market capitalization above $600 billion for the first time since April 10, also marking a 23% increase in stock price since the bottom of this dip came at $522.18 during trading on May 18.
Apple's new all-time high comes a day after the company issued its first quarterly stock dividend since 1995, giving shareholders $2.65 per share as one piece of the company's strategy for handling its massive stockpile of cash. Investors had been calling for a dividend for quite some time as Apple's cash hoard approached and then exceeded $100 billion, with the company relenting in a March announcement in which the company outlined its belief that it will have enough cash on hand to meet its needs for the foreseeable future. The company also instituted a $10 billion stock buyback program intended to offset dilution coming from stock grants and employee stock purchases.