Apple's Market Capitalization Hits $600 Billion
Apple's stock has continued its remarkable run in 2012, moving up another 1% today to briefly hit a market capitalization of $600 billion. The milestone comes just under six weeks after hitting $500 billion, and Apple's stock is now up nearly 60% since the beginning of the year.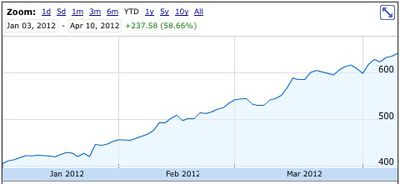 If some analysts are to be believed, the $600 billion mark is just a brief stop on the company's way to a trillion dollar market capitalization. Analysts are beginning to float that unprecedented number as a target for Apple's stock price over the next year or so.
Apple is now within just a few billion dollars of taking Microsoft's title of most valuable publicly-traded company ever, targeting its rivals' $604 billion market capitalization achieved in December 1999. But adjusting for inflation, Microsoft's market capitalization at that time would correspond to over $800 billion in today's dollars.