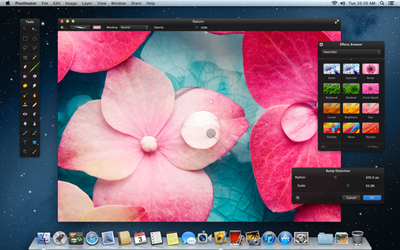 Pixelmator 2.1 has arrived on the Mac App Store, bringing support for the new MacBook Pro with Retina Display, iCloud syncing and backup, and more. Pixelmator is a highly rated image editor that was one of the early successes on the Mac App Store. The app generated more than $1 million in revenue in the first 20 days of the Mac App Store's existence.

The Pixelmator Team today released Pixelmator 2.1, the newest major update of the inspiring, easy-to-use and feature-packed image editing software. Pixelmator 2.1 adds a new Effects Browser, several new effects—including Vintage and Miniaturize effects—new smart Alignment Guides and many other enhancements. Pixelmator 2.1 comes ready with support for OS X Mountain Lion, including iCloud, as well as support for the new MacBook Pro with Retina display.
The smart Alignment Guides are similar to the placement lines Apple uses in iWork, while the iCloud support backs up images to Apple's servers and keeps Pixelmator files up to date between Macs. A 30-day free trial is available from Pixelmator's website.
Pixelmator 2.1 -- codenamed Cherry -- is temporarily available on the Mac App Store for $14.99, a significant discount from its standard $59. [Direct Link]